The Promise of Democracy Vouchers in Los Angeles: Video and Notes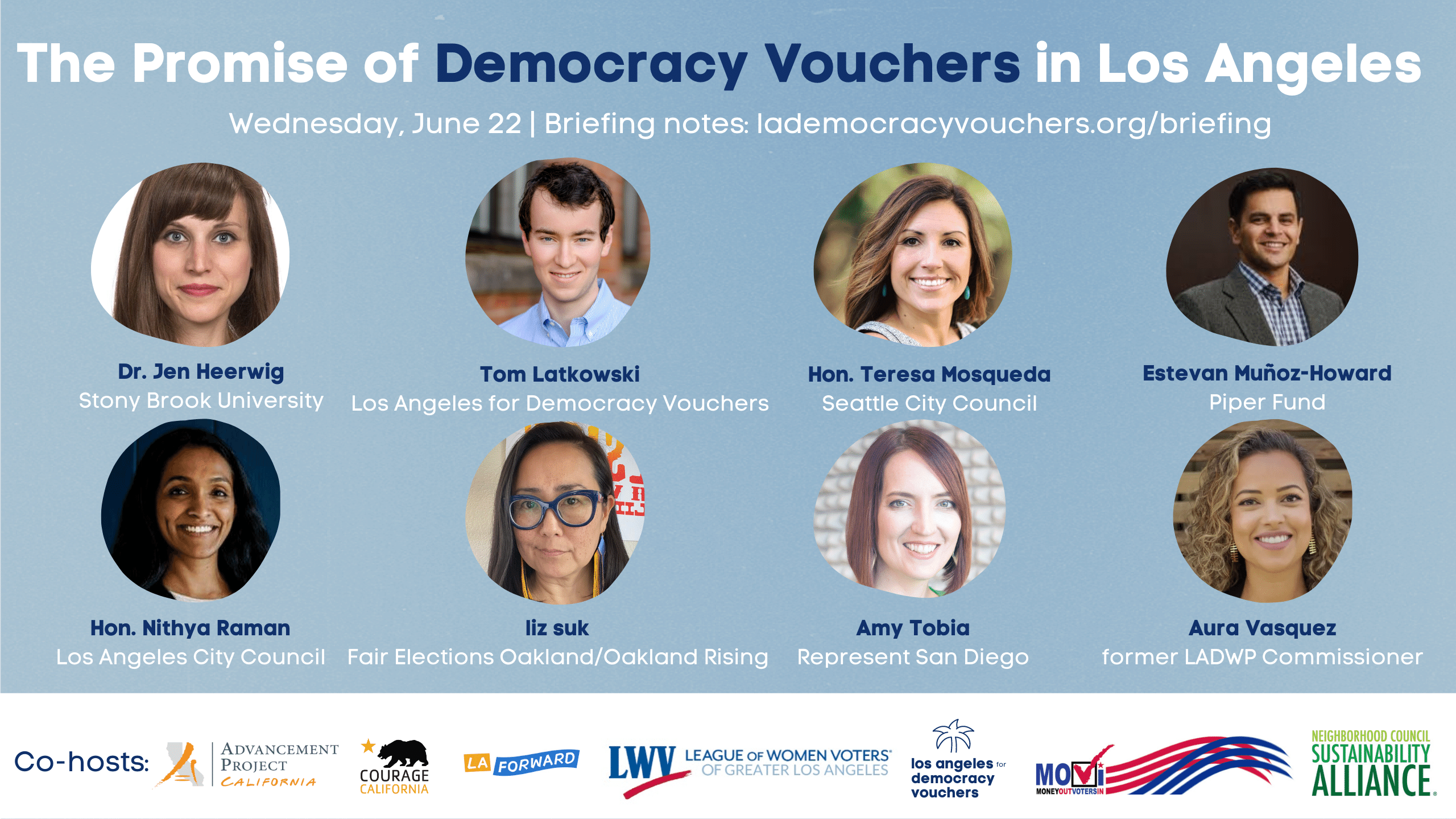 On June 22, Los Angeles for Democracy Vouchers, alongside Advancement Project CA, Courage CA, LA Forward, League of Women Voters of Greater Los Angeles, Money Out Voters In, and Neighborhood Council Sustainability Alliance, co-hosted a policy briefing with experts, advocates, and elected officials leading the charge to introduce democracy vouchers in Los Angeles and elsewhere. Video and notes from the event are below.
Welcome - Mike Draskovic (co-lead, Los Angeles for Democracy Vouchers)
From the event description: As one of the largest and most diverse cities on the planet, Los Angeles can be a shining beacon for multiracial democracy in the 21st century. But currently, money is a significant barrier to running and winning elections, with wealthy interests, corporate groups, and even out-of-state billionaires opposing community candidates and pouring money into our local races. Implementing a "democracy vouchers" system would address these problems and empower all Angelenos, regardless of income or background, to have the opportunity to run for public office or donate to candidates who truly reflect the interests of their community. Learn from local and national advocates, lawmakers, and experts about how democracy vouchers could make Los Angeles city elections open to all — not just the wealthy and well-connected.
Co-host introductions: Aaron Robertson (Advancement Project CA), Chris Carson (LWV GLA), Lisa Hart (NCSA), Irene Kao (Courage CA), and Michele Sutter (Money Out Voters In)
Land acknowledgement by indigenous spiritual activist Mike Bravo
To learn more about our efforts: Read our "Elevating More Voices" report and our CalMatters op-ed "Here's a better way for LA to deal with campaign finance"
Welcome Introduction - Aura Vasquez, Moderator (former LADWP Commissioner)
Former candidate for LA City Council and is familiar with how exclusionary our current campaign finance system is: Running with few resources, being a woman of color, and having difficulties raising money from people in her community — hundreds wanted to engage but didn't have the means. Democracy Vouchers could change that.
The Problem & Solution - Tom Latkowski (Co-lead, Los Angeles for Democracy Vouchers)
In total, there was $32 million in political spending in the 2020 City elections. That money came from all across the country — 70% of money came from outside Los Angeles. Even of what's left, a substantial portion came from special interests. Just 17% came from people in Los Angeles or from the matching funds program. Within LA, money came from the whitest and wealthiest neighborhoods in the city. LA is 70% people of color; the donor pool is not representative.
Our campaign finance system tends to benefit white people, men and incumbents. Over the past 100 years, our City Council has always been disproportionately white and male. In the last 50 years, there have been 65 new Council members elected. Before Nithya Raman, you have to go back to 2003 to find someone who beat an incumbent.
What can we do? Three ideas get discussed. (1) End Citizens United: National effort and requires constitutional amendment. Not something we can do on our own in Los Angeles; (2) Ban private contributions: unconstitutional; (3) Matching funds: helps a lot but doesn't address the full problem.
Solution: Give democracy vouchers to every resident. That way anyone can donate, even without wealth. And for candidates, any network becomes a fundraising network.
Right now, you can only run for office if you have wealthy connections because that's what fundraising requires. With democracy vouchers you can fundraise by going door-to-door and meeting people in the community. The effect of this is that more people can run for office.
Results in Seattle: Diversified donor and candidate pools; most diverse mayoral field ever in 2021. Many candidates cited democracy vouchers as a reason why they ran. Increased voter participation.
What happens if corporations get involved? In 2019, Seattle City Council was debating a head tax on homeless services and Amazon spent an unprecedented amount of money on the election; and all told there was $10m+ spending by corporations; in the end, they were, out of seven council races, 6 won using democracy vouchers (only one Amazon backed candidate won).
The Impact of Democracy Vouchers - Dr. Jen Heerwig (Stony Brook University)
The Seattle Democracy Vouchers Program has gone through three election cycles: 2017, 2019, and 2021. Seattle residents receive four $25 vouchers to give to local campaigns.
The program increased participation in local campaign finance relatively quickly. More than 38,000 Seattle residents participated in the Democracy Voucher program in 2019, nearly double the number of participants in 2017. And participation grew even more by 2021. The number of cash users was doubled in just one implementation.
The program increased representational equity along lines of race, age, and income. Historically, the people who fund elections do not look like the average voter; people of color, young people, and low income people are vastly underrepresented among campaign donors. In 2021, democracy voucher users had more BIPOC, young, and lower income donors than cash donors in 2017.
The Experience of Running and Winning with Democracy Vouchers - Teresa Mosqueda (Seattle City Councilmember)
Background: Chicana leader, union organizer, healthcare activist, and daughter of educators and activists. She came from a public servant household and did not grow up in a wealthy family. She was the first, first-time candidate to win public office using democracy vouchers. She decided to run for office to show that democracy and democracy vouchers could work, and made democracy vouchers a pillar of her campaign, emphasizing that she was not beholden to large corporations or wealthy individuals.
Democracy vouchers in Seattle are available to all registered voters and is eligible to all lawful, permanent residents, so all non-citizens or citizens who are not registered or have been disenfranchised were eligible to use democracy vouchers.
Democracy vouchers meant she didn't have to do "call time" or spend time dialing for dollars. Instead she was in the community, talking to people about solutions. She could walk away with $500-$700 in democracy vouchers in a three-hour window — way more than she could have raised dialing for dollars in that same time.
Democracy vouchers have an "organizing" effect: once people use their vouchers, they talk to one another, their congregations, their associations and unions — and they become more engaged.
Democracy vouchers changes who runs, changes who donates, and changes who votes. In the 2015 race before democracy vouchers were introduced, there were only two straight white men on the ballot for her seat; in 2017, after democracy vouchers, there were seven others, including women, people of color, LGBTQ individuals, renters and lower income people.
In 2015, before democracy vouchers were available, a little over 3,000 individuals and organizations donated to campaigns; in 2017, the first year democracy vouchers were available, over 14,000 individuals donated — over three times the amount of people donating prior; and in 2019, 38,000 people donated; and in 2021, 48,000 people donated — sixteen times the number of donors in 2015. In 2015, the average contribution size to an at-large race was over $200. In 2017, the average contribution size dropped to $88. In 2021, the average in her race was $55.
This is an important tool to combat the deep pockets, the wealthy individuals, and corporations who are trying to buy our elections
The Campaign in Seattle - Estevan Muñoz-Howard (Interim Co-Director, Piper Fund, and Organizer with the 2015 Honest Elections Seattle Initiative)
Seattle's campaign benefited from having a strong coalition up front. It was critical to engage communities of color and low-income communities up front.
Seattle's effort led with other, non-democracy voucher policies up front, including popular policies that lowered contribution limits, banned contributions from corporations with large business contracts before the council, closed the "revolving door" and fined and penalized those who broke elections law; also they neutered the "it's going to cost too much" counter argument by proposing the smallest property tax in the city's history, which came out to roughly $8/year for the average household
The initiative benefited from engaging young people and communities of color and low-income communities early on — carried heavily by communities of color. The strongest opposition came from those who were already well-represented.
The Campaign in Oakland - liz suk (Fair Elections Oakland/Oakland Rising)
The political education for something as heady and wonky as equitable democracy and fair elections take time. Outreach to communities of color and immigrant communities requires speaking with the language and culturally. It takes 2-3 touchers (phone calls or door-knocks) to ID a person so having a long runway is important
The long-term strategy around democracy vouchers is not just winning the ballot measure but also the work that goes into this after you win; so not just implementation but doing public education about the policy — ensuring people of color and low-income people who are left out of the process know how to use vouchers.
We need to speak to communities of color and poor communities who are left out of the electoral process — and building a strong base of people requires a long runway and a long implementation period.
The Campaign in San Diego - Amy Tobia (Represent San Diego)
The San Diego effort started by running "round tables" where they went to community groups and asked, "What is your ideal candidate and who do you want to represent you? What kind of people, character and background?" The result: Nobody wants good fundraisers or wealthy donors representing them. They wanted ethical people who are good listeners and thoughtful. Voters need more opportunity to weigh in on who makes it to the ballot — and democracy vouchers could make this possible.
Public education around democracy vouchers is key. They're currently working to highlight independent expenditures and outside spending through a public dashboard.
They also ran a mock democracy dollars campaign, giving both voters a mock certificate to give to candidates and candidates mock certificates to encourage them to support democracy vouchers if elected.
The Plan for Los Angeles - Nithya Raman (Los Angeles City Councilmember)
Raman ran in November 2020 where 130,000 voters came out, compared to 24,000 in the previous election. She received the most number of votes by any person ever elected to LA City Council.
Today, money comes disproportionately from the whitest and wealthiest neighborhoods despite the fact that LA is not majority white or wealthy. LA's matching funds program has been a powerful program — however you still need money to participate in the system.
More renters could donate with a democracy voucher program. Here in Los Angeles, a city of majority renters, both donors and voters are predominantly home owners. The potential of democracy vouchers to transform who gets to have a say in their local representation — in addition to increasing voter turnout and people's interest in participating in a local election after using a voucher — is the most exciting part of the system.
Raman and other Councilmembers are exploring introducing legislation that would look at how democracy vouchers could be implemented in the City of Los Angeles. We have matching funds and think we could go a step further. It's not a one-stop shop for fixing all of the ills that ail municipal political life, but fixing this could be transformative for our campaign finance system and would move us towards a more equitable and representative campaign finance system.