Candidates pledge to support democracy vouchers, if elected
As Angelenos begin voting, we asked every candidate running in Los Angeles whether they'll commit to making city elections open to all, regardless of income or background, by advocating for a "democracy vouchers" based campaign finance system if they're elected.
Currently, money is a significant barrier to running and winning elections in Los Angeles City, with wealthy interests, corporate groups, and even out-of-state billionaires opposing community candidates and pouring money into our local races.
Implementing a "democracy vouchers" system would address these problems and empower all Angelenos, regardless of income or background, to have the opportunity to run for public office or donate to candidates who truly reflect the interests of their community.
We believe it's important that Angelenos know which candidates stand for making democracy work for everyone — not just the wealthy and well-connected.
If you're running for office in the LA area and believe LA City elections should be open to all, please reach out to mike@lademocracyvouchers.org with 1-2 sentences responding to the following question:
If elected, will you commit to making Los Angeles City elections open to all, regardless of income or background, by advocating for a "democracy vouchers" based campaign finance system?
Here's who has pledged to make Los Angeles elections open to all with democracy vouchers — and what they had to say:
Jimmy Biblarz, Candidate, CD5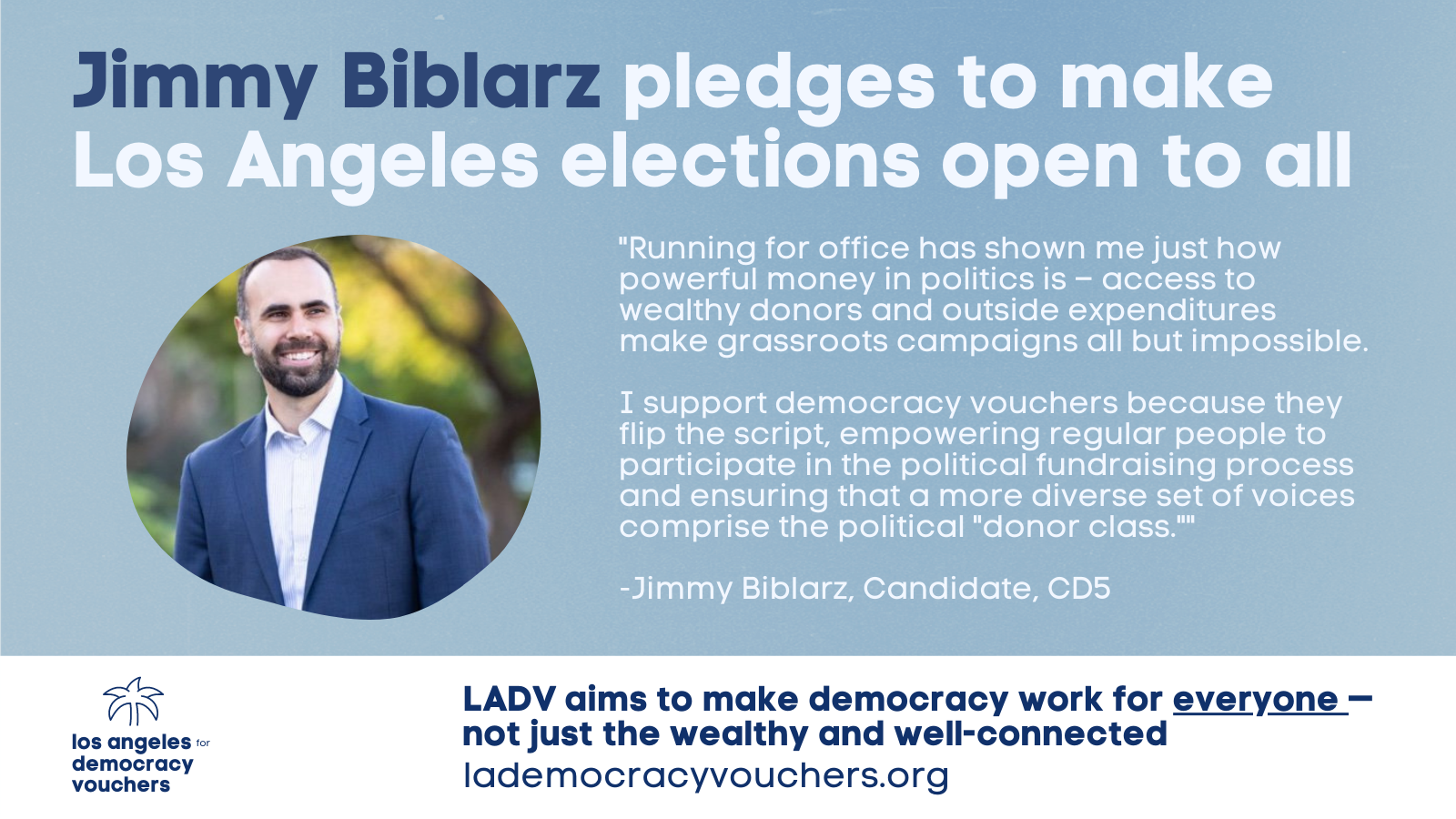 "Running for office has shown me just how powerful money in politics is — access to wealthy donors and outside expenditures make grassroots campaigns all but impossible.
I support democracy vouchers because they flip the script, empowering regular people to participate in the political fundraising process and ensuring that a more diverse set of voices comprise the political door class."
Elisa Avalos, Candidate, CD7
"I believe a democracy vouchers program done properly and inclusively could change the political landscape of Los Angeles elections for the better.
There is a history of outside campaign money that influences our elections and silences the voices of constituents of all political persuasions. If elected, I look forward to having these discussions."
David Vahedi, Candidate, City Controller
"You have my pledge that I will support the city council and mayor enacting an ordinance to implement the voucher system and if they fail to do so, I will financially support placing the ordinance on the ballot for voters to approve."
David Kim, Candidate, CA-34
"I support democracy vouchers because they can help dilute the influence of corporate and special interest money on our elections and give 100% people-powered candidates a chance to run against a corporate incumbent."
Craig Greiwe, Candidate, Mayor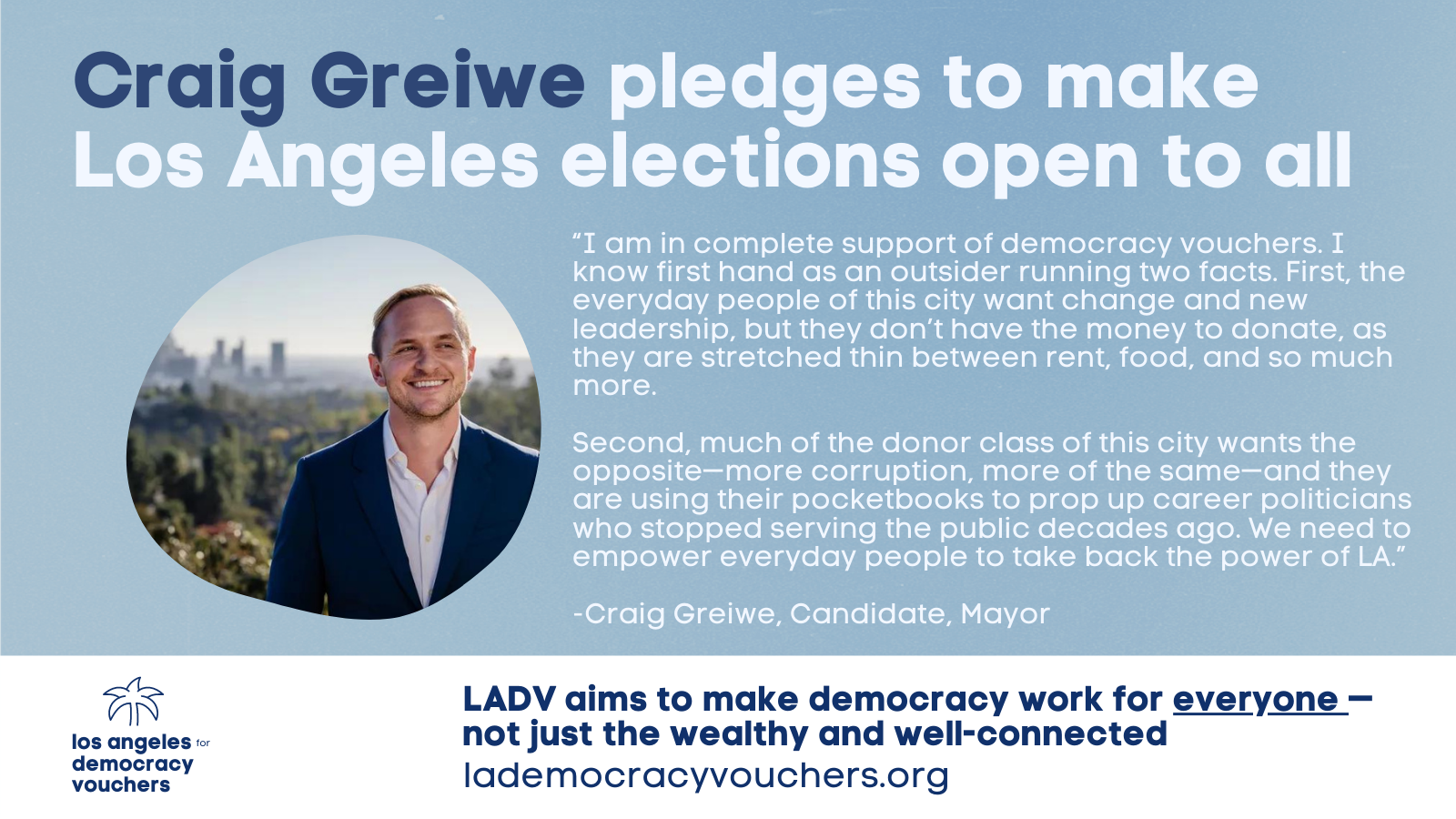 "I am in complete support of democracy vouchers. I know first hand as an outsider running two facts. First, the everyday people of this city want change and new leadership, but they don't have the money to donate, as they are stretched thin between rent, food, and so much more.
Second, much of the donor class of this city wants the opposite—more corruption, more of the same—and they are using their pocketbooks to prop up career politicians who stopped serving the public decades ago. We need to empower everyday people to take back the power of LA."
Gina Viola, Candidate, Mayor
"I hope our campaign can show in real time how imperative the need for public financing is: We've raised $40k and we are in 3rd place against a billionaire and a candidate backed by the DNC and unions.
The democracy vouchers are not only an incredible path to getting us there, it elevates participation that our incredibly segregated city desperately needs."
Erin Darling, Candidate, CD11
"As a first-time candidate for city council, I strongly approve of the need of democracy vouchers to better engage our constituents in the electoral process. Special interests with large financial resources have a disproportionate effect on political campaigns, and democracy vouchers can play a vital role in diluting their influence by giving ordinary citizens a chance to be heard.
I believe this will lead to more diverse candidates of ethnic and socioeconomic backgrounds who will be better representatives for the issues of Los Angeles, and if elected I will support any measures to advance this idea and see it turn into a reality."
Dulce Vasquez, Candidate, CD9
"I'm fighting to represent the poorest district and least engaged district in Los Angeles. Democracy vouchers would be game changers for our working class community to feel like they have a stake in the process. I'm fully in support of this effort to engage more people in our process."
Kenneth Mejia, Candidate, City Controller
"As a campaign that relies exclusively on small dollar grassroots donations, I pledge to make Los Angeles elections open to all and support democracy vouchers so that all Angelenos have the opportunity to donate to candidates who truly represent their community."
Danielle Sandoval, Candidate, CD15
"I believe Los Angeles needs a campaign finance law that empowers all Angelenos to contribute and limits the amount of campaign contribution any one candidate may receive from developers, corporate interests and outside the state. Democracy vouchers are a vital reform to keep our elections fair and balanced, giving all voters the ability to be free from special interest influence and attempts to purchase our elections."